You may be here because you've realized that your brand isn't hittin' like you thought it would. One of the hardest parts of being an entrepreneur is creating a brand that will outshine your competition. What you have to offer is essential, but how it's presented can make or break your business.

Be real with yourself…
Have you created a brand worth buying?

If you can't answer that question truthfully, then take a look at your bank account.
Numbers don't lie, and they will tell you if your current situation is working or not.
Let's get your business from
IDEA TO COMMERCE
with our branding recipe!
1/3 CUP
OF CREATIVITY
​
Becoming a trailblazer or consistently creating trendy content takes time. Our team conducts thorough research and uses the best resources to develop the most creative strategies.
1/3 CUP
OF CONNECTION
​
This most significant part of your business is your customers. Take care of them, and they will take care of you. We help you develop a customer service strategy that will keep them happy and loyal to your brand.
1/3 CUP
OF CONTENT
​
Content is one of our secret ingredients. We work hard to create content across your platforms that is engaging and flawless.
Stop selling yourself short by piggybacking-off of your competitions.
Level up like a boss and INVEST in your branding strategy.

The Bread Aisle provides you with branding strategy, development and implementation. We even offer publishing options.

It's our job to help you take all of those extravagant business ideas that you have and create an irresistible brand that the people will crave.
Click the link below to access our packages and prices to build your business with creative research, strategies, content, implementation, launch and marketing.
Luxury Accommodation - No Room Sharing!
---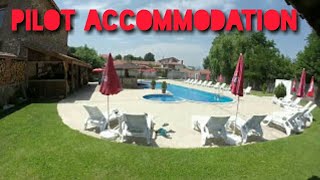 You won't have to worry about sharing a sweaty dorm room or even worse, shared bathrooms. You get your own air-conditioned, ensuite room. There's a swimming pool (seasonal) and an outdoor jacuzzi (year round). Beautiful gardens and a bar onsite. Very fast and free WiFi.
---
Meals are Included
---
You won't be left to find your way around local restaurants/shops after a hard day on the hill. No arguing when the bill comes over who had the T-bone steak etc. Our hearty breakfasts will set you up for a day's adventure. The evening meal is an à la carte 3 course feast. One evening per week, the kitchen is closed and you'll be accompanied to a local town for a meal in a restaurant of your choice.
---
New Equipment
---
We don't use old equipment in our school. Only the latest models and all regularly changed long before they reach end of life. We use reserve parachutes from day one.
---
A small school, we keep student ratios low. Only 3 students per instructor
---
Only 3 Students per instructor. Our student/instructor ratios are lower than BHPA recommendations and we believe this is critical to your success. We are not the biggest school, we like it like that. We're able to provide a flexible and personal service, you'll get all the attention you need to get qualified.
---
Modern, Air Conditioned Vehicles
---
Travel in comfort both to and from the airport and during your training. Airport transfers are included.
---
Huge Selection of Training Sites
---
We can cover all wind directions. Weather has never caused any of our students not to get their ratings.
---
Continuing Support
---
After training we're always available to assist with any queries and questions. Our pilot development courses, trips and further training are the best way for you to build your experience and confidence. Be part of the team.
---
---
I want to say thank you to Natasha, she did an awesome job with the production of creating my new business idea. I went to Natasha with my idea and she immediately jumped on it. She wrote out everything I needed to do. She connected me with her team of professionals for my photo shoot down to highly recommended makeup artists and photographers. She created my social media content, thank you cards, website and the launch party for my business. I will definitely be using Natasha again.
​
-- Ebony M., Cute Cappin Official
Let's Turn Up The Heat and Start Working The Recipe!